She calls herself French Skinny and her blog, The French Skinny

Expirement

is fascinating me.

The tag line - "My friend,

Shaboom

, moved to France and lost 65 pounds without trying. I'm in Burbank, CA and I'm going to copy what she does." Back and forth, they journal their days and watch the pounds mysteriously

disappear

. What

Shaboom

does, French Skinny does

nd

the weight is coming off, even after all those croissants. Maybe I should copy too....



I want to introduce you to Food for My Family. I just discovered that the writer, Shaina, lives only a mile or two down the road from where we lived before our big move. I wish I would have known that sooner! When Shaina won a little Twitter contest I did the other day, I spent some time on her site and I love it. I'm terribly disorganized about healthy eating and Shaina's blog is just the right place to find direction. Yummy recipes, meal planning, tips, and much more, all spread out on the page like an elegant feast.

Food for My Family

is my new go-to place for getting my mealtime head on straight. (So nice to meet you, Shaina. Your contest prize is in the mail :)


__________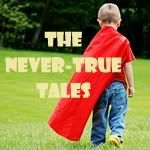 Lastly, I was blown away by this beautiful guest post today on The Chocolate Chip Waffle. (Did someone say waffle?) I was already a fan of Amy from The Never-True Tales, but I don't know...this one just blew me away. The writing is amazing and the post will resonate with every mother and...oh, how I wish I had more time to keep up with all of you beautiful and talented writers in

blogland

. Seriously.
(Which reminds me, Lee wrote a post that spoke my mind and heart about this whole blogging thing yesterday. So yes, I just linked to that one too. You won't be sorry.)

That's it, peeps. (Dad and Grandma, by "peeps" I mean

people-friends

. When I say peeps, I'm not

always

referring to those marshmallow things I'm

always

eating.)



Please go visit at least one of these...peeps. Spread the love, you know?
Comments are closed on this post
.