Posted on Friday~January 30th, 2009: 9:00am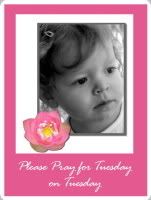 You've maybe noticed Miss Tuesday in my sidebar. This beautiful little girl and her family have been on my mind and heart since the day I heard about them and started following their story. Tuesday is 2. She has a twin sister and two older brothers. Tuesday also has cancer.
I know there are a lot of hurting people, and we hear a lot of sad stories, especially if we're connected to the
internet
world. But sometimes a certain person's story will just stick with you, touching your heart in a way that seems impossible for never having met them. Tuesday and her family have done something to my heart. And I'm honored, because it means I've been moved to help in my own small way.


Jessica Kate is Tuesday's mom. Her latest blog post was an update with heart-breaking news:
"My deepest fears were confirmed. Tomorrow we take our precious daughter home. Her cancer doubled in size in less than a week proving once and for all that it is horribly aggressive and no longer chemo sensitive. We have no idea how to do this but we have no doubt we will be cared for every step of the way. This is all I have in me. Please pray for peace for our children, our parents and our siblings. Tuesday, full of grace, you are our so very loved."

(taken from go blog yourself, by Jessica Kate)


I've been following Jessica Kate's blog for quite some time now and the moment I read that post, I knew I wanted to do something. I can't even begin to imagine how a parent walks this road and survives. How a mother can walk away from the hospital with her daughter knowing that there is no longer help there.
I will be thinking of Tuesday and her family and praying for peace, and even for a miracle.

I also want to help by following in the lovely footsteps of Mr. and Mrs. Boo Radley of just like camping. They raised money for Tuesday and her family by asking for comments and matching the number of comments with dollars. I love this idea. I love it so much that Ryan and I and some of our family members decided we're going to copy it. So with Mrs. Boo Radley's gracious permission to steal their idea, my family and I will give a dollar for every comment on this post. So please leave a comment. The more comments, the more money to ease a financial burden for Tuesday's family. Instead of us deciding on an amount to donate ourselves, I love that this involves people, spreads the word, and allows a quick and easy way for anyone to help. I'm hoping that reading about this and commenting here will put a little bit of Tuesday on your heart and mind so you can send your thoughts and prayers her way.
To clarify: We will be the ones donating the money. Commenting does not obligate you to donate. We are simply matching a dollar amount to the number of comments. (Just to be clear.)

(If you don't know how to comment or want to remain anonymous all you have to do is click "Post a comment" at the bottom of this post, then click the anonymous option, write your comment in the box and then click "publish your comment." It's totally safe. You can sign your name in the box if you don't care if you're anonymous.)

If you use twitter, please tweet about this and send people here to comment.

If you have a blog, consider mentioning this in a post and linking back here.

If you would like to make a donation of your own, you can do that through paypal HERE or HERE. (Both of these links have a paypal button in their right sidebar for Tuesday.)

I'm going to take a break from posting and leave this as the latest post for a few days. Bring on the comments!
I'll keep the comments open until they reach the highest number we're able to donate as a family. Then comments will be off and I will be off to

paypal

to make a donation.
Let's help Tuesday and her family!

THANK YOU!
_______________

**UPDATE:
Tuesday Fiona Whitt
October 11, 2006-January 30, 2009

**UPDATE:
COMMENTS ARE NOW CLOSED. Thank you all so much!
Please go visit go blog yourself and give Tuesday's family some love.
"I'm 36, and as I sit here watching my broken little bird, struggling in pain in her hospital bed, and I have no idea how to fix her. She's on serious levels of morphine and still she hurts. She's agitated and confused from the drugs and doesn't want me to touch her. I'm broken. What do you do when you can't help the little bird?" (from one of the best posts I've ever read written by Jessica Kate on go blog yourself.)